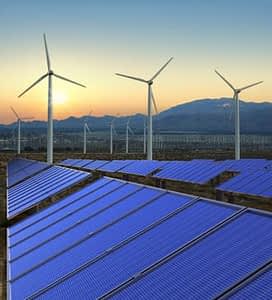 Renewables leasing as for so long, lagged behind other market sectors. but now financial pressure of rising fuel costs, and market demands for a greener and low carbon economy are forcing companies to look again at renewable and sustainable energy sources, and climate smart renewables leasing.
Renewables and low carbon covers many areas, including tidal, wind power, bio mass, and solar or photovoltaic, Demand response modules and LED Lighting.
Oak Leasing has secured the support and financial expertise of both a major UK bank and a major German institution, who has vast experience in renewables and low carbon equipment leasing.
Our expertise and knowledge in providing finance for PV, biomass boilers, wind turbines and heat pumps, ensures that your preferred finance solution complies fully with Ogem's requirements
This enables us to offer to you a european renewables leasing solution.

In a recent European study, over 66% of companies cited the cost of greener and renewables equipment as their chief obstacle to purchase. Oak now has the funding capacity to overcome this hurdle to enable the transition to a greener, low carbon and sustainable business environment. No matter where you are based, in the UK, or Europe, Oak Leasing has the renewables equipment finance solution for you now.
Companies  thinking about capital expenditure on renewables have to focus on  return on investment. By using renewables  leasing, to spread the costs,  and coupled with  price competition from renewable suppliers,  the cost of new equipment have dropped,  and the equipment has even  greater efficiency. In simply terms profit comes quicker!
One simple fact that enough solar energy reaches the Earth's surface in a single day to provide over 27 years worth of electricity and yet we utilise only 1% of solar power at present.
So where do you go from here? Well Oak Leasing is an independent provider of renewables leasing throughout Europe. We can finance infrastructure, renewables equipment and assist you throughout your project.
So you have the expertise from us to assist you, but the key factor is we have the finance and lease funding available for you now. You can see from one of our case studies, how we can anticipate potential problems, and overcome them for our customers.
Our underwriters critically know both the climate smart equipment and the renewable energy market backwards. Our partners have funded some of the largest renewable projects in the world.
We both fully understand where you are coming from, no need to explain how or what it does. That is a refreshing change !